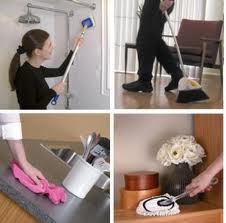 All the tenants are well informed that once they decide to vacate the property they are occupying, they would need to leave it in a spotless condition. Due to the fact that all the letting agencies and landlords are quite picky and stringent about the quality of cleaning needed, the best thing to do is just to leave the job in the hands of the professionals. Having a happy inventory clerk at the end of your tenancy will ensure you a full refund of your deposit and a complete peace of mind when vacating your property.
Thanks to our long term experience in the provision of variety cleaning services, we have become specialists in pleasing every taste. We are able to offer you our Full End of Tenancy Cleaning, tailor made of each and every property. In order to complete even the hardest task, we will be able to arrange for you a team of professional cleaners to conquer your property and to apply deep and proper cleaning everywhere, from top to bottom, each premise included.

As a part of the service, all tiles in the bathrooms will be washed and cleaned, the sanitary ware will be de-scaled and disinfected, the floor will be also scrubbed and moped. In the kitchen, all the appliances, including the fridge, the dishwasher, washing machine, dryer, microwave etc. will be cleaned from in and outside. The same is valid also for all of the cupboards, as even the top of it would not be missed. The hard flooring will be moped and polished, and the skirting boards and ledges will be wiped and left neat. Even hard tasks as the cleaning of the windows would not be put off. Our cleaners will arrive on site not only equipped with all the needed top of the brands, detergents and tools, but also with enthusiasm and skills to deal even with the hardest cleaning task.
Local areas in London
So if you consider that you do not have the vigour or the aspiration to do the major End of Tenancy Cleaning yourself, or you are worried that you may not meet all the requirements of your inspection and to get your full deposit back, just give us a call and let us handle it. The main advantage of the provided End of Tenancy Cleaning is that it comes with a guarantee, so even if we miss a single spot from the first visit, we will be able to come back and re clean it, at not extra cost.
In order to book a service, or just get a quote and some more information in regards to the service, just give us a call!